Curtain Ring Wreath Ornaments & Winter/Holiday Link Party
Welcome to the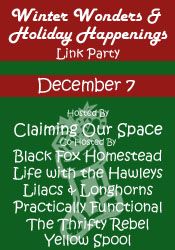 Winter Wonders and Holiday Happenings Link Party!
December is here and that means Hanukkah, Christmas and Kwanzaa are right around the corner so it is the perfect time to share all your delicious holiday dishes and decor, along with your favorite Winter treats and projects.
Help get us inspired!
Claiming Our Space has joined up with
Black Fox Homestead
,
Life with the Hawleys
,
Lilacs and Longhorns
,
Practically Functional
,
The Thrifty Rebel
and
Yellow Spool
.
Each of us will have our own project or recipe to share so make sure to
stop by to check out what we have each created as well as to link up
your own winter or holiday inspired posts.
For my project I used wooden curtains rings to make wreath tree ornaments. These rings were really great to use because they came with large eye hooks.
To make these wreath ornaments I wrapped green cording around the wooden curtain rings. Then I tied the cording at the back in a simple knot and used some glue to secure.
Then I applied Mod Podge and a lot of green glitter. Make sure to apply the MP generously because it will soak into the cording. Work your way around each wreath making sure to get the insides and outsides as well. I left the backs of the wreaths glitterless. I let the wreaths dry for a few hours and then I lightly applied some Tremclad Spray urethane just to keep the glitter in place.
I dressed up the wreaths by adding some small green velvet bows, which I cut just a bit because they were too long, some miniature bells, and a few decorative leaves.
To finish them off I tied some gold cording on to the eye hook rings, and that's it… they're ready to hang on the tree.
Now that you have seen my project, it is time for you to share your projects, crafts, recipes, whatever you have come up with that is Winter or Holiday related via the linky tool below.
The party will be up until Thursday, December 20 and then on Friday, December 21, each host will pick their favorite two link ups. So mark your calendar to check back to see if you were featured.
Just a few guidelines
1. If you aren't already a follower, we would love it if you would add each of the hosts.
2. Link ups should be Winter or Holiday related. (No shops or other link parties please)
3. Try to visit some of the other link ups and leave a comment. Everyone loves visitors!
4. You don't need to link back but we would appreciate it if you would display the button on your blog or in your post to let your own readers know about the party.